Wilfred Beerse Stables – Sporthorses
Welcome to WB Stables Sporthorses
We like to welcome you to WB Stables. Your address for sport horses and training in Europe. We are located in Friesland, only a short distance from Amsterdam Schiphol Airport.
WB Stables specializes in training and trading talented sport horses. We offer show jumpers, eventing, equitation, hunters, and dressage horses. We have great sport horses for beginner and professional riders. They perform at national, International, and up to Grand Prix levels. We offer you top-quality Royal Dutch KWPN sport horses of all ages, levels, and disciplines. From famous interesting Dutch bloodlines.
WB Stables offers excellent facilities for you to try our sport horses.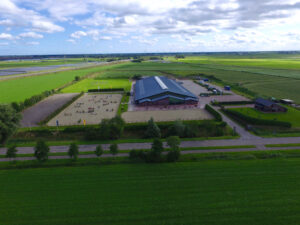 – Jumping arena 40×80; all-weather footing with an FEI-approved jumping course;
– Indoor arena 25×90; top quality footing;
– Dressage arena 30×70; all-weather footing
– Spacious lounge area
– Covered walker and horse longing ring
– Paddock and field grass paddocks
Veterinarian Examination
The healthiness and impeccable physical condition of our sales horses are our primary concern. All our horses are vet-checked. Due to strict EU- standards, clinical exams as well as digital X-Rays are obligatory. We are able to send the X- Rays, which come from a reliable and well-known Dutch equine clinic before you try the horse so you can show it to your veterinarian. This saves costs and time.
NeXt level training
This training is for riders that like to learn the European way of riding.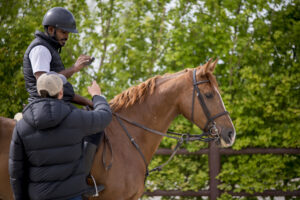 From beginners to the die-hard 1.40m rider, we offer a custom-made program for every rider. Our NeXt level training is one of the most popular training in Europe to improve your riding.
The European system focuses on control, turns, and other various techniques that make your daily riding more fun. In addition, skills are introduced that better prepare you for more challenging forms of riding. Existing skills are becoming more applicable in a show environment.
Transport Service
We provide worldwide transportation service. In stable-to-stable transport and handling of horses to any national, international, or intercontinental destination by road and air. We can advise and help you. We also take care of all the required customs formalities and veterinary health certificates. We supervise any blood tests that may be required.
Horses 2 fly is the largest horse transportation company by air in Europe. Together with them we carefully organize the road transport and flight of your sport horses.
Friesian Horses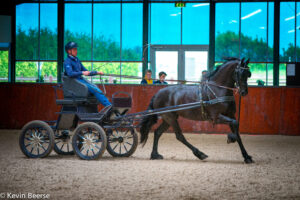 WB Stables has an agreement with the KFPS (Royal Friesian Stud Book) to host exclusively several tests for the Friesian horses. The horses are trained by our fixed team, tested, and made ready for approval tests at our facilities. We have several tests under the saddle and before a carriage.
Transportation from Schiphol Airport
We are happy to organize transport for you from Schiphol Airport to our company. When needed we can help you to book a hotel. We offer full service for those that are looking for horses or training.
Do you have any additional questions? Please do not hesitate to contact us.